Holy crap, guys.
It's been way longer than I thought since I last posted here.  I haven't posted anything in nearly a year and a half.  Do y'all even remember me?  Do you know what's happened in a year and a half?  Obviously not much, if I haven't been around to tell you about it, right?  Except…
The last time I was here, I was the mother of one amazing, beautiful, perfect little boy.
Today?  Today, I'm the mother of three amazing, beautiful, perfect little boys.
Yep, you read that right.  Three.  For the next two weeks, three under the age of three.  Boys.  Three. Boys.
My heart could not be fuller.
I always said I wanted three kids.  I come from a large family (I'm the oldest of five), Ryan comes from a small family (he's the oldest of two); three seemed like a good compromise.  You should've seen our faces when, at a six week ultrasound for my second pregnancy, the tech announced, "There's one.  And there's two." (Actually, I would've liked to have seen our faces.) Obviously, she was telling us we were getting twins, but we were a bit slow on the uptake.  It took us both a moment to catch up.  Um, ok, it took us quite awhile to catch up.  In fact, we spent the next few hours in almost total, shocked silence.  Until one of us would say, "Holy crap, twins."  Or, "Wow.  There are TWO of them,"  Then we got in the car and drove two hours to tell our families in person.  Some days I think we're still a little shocked.
Granted, this was not a total surprise.  My dad is a fraternal twin.  My maternal grandfather had fraternal twin siblings.  But because I always joked about how cool it would be to have twins, I think I had talked myself out of the possibility.  Mentally.  I think I had a gut instinct though that they were twins.  Because this is what happens to someone who has the perfect singleton pregnancy first time around, breezes through the whole nine months and labor, then wonders why people get so stressed out about infants.  Life hands those people two more at the same time, in conjunction with the terrible twos/ threenage years.
We're managing.  In fact, we're more than managing; I think we're doing really well.  Our days are not nearly as stressful or as chaotic as I had envisioned.  I can still get all three of them out the door before 10AM without help.  Everyone is fed, bathed (at least every other night), wearing clean clothes, and getting individual cuddle time.  I can still get a hot, cooked meal on the table at least three nights a week, and Friday is still always pizza- homemade, more often than not.  This week I baked two batches of cookies, homemade pretzels, and a batch of zucchini bread between naptimes and diaper changes.
Of course. it can get stressful.  One can be stressful, three (without ever experiencing two) has, admittedly, brought me to my knees a time or two.  But it's the best kind of stressful, and there's nearly always humor to be found in the midst of it all.  "Twin B" has a tendency to wait until his diaper off to show off his ability to impersonate a fire hose.  This has earned him the nickname "Squirt" (he was also a full pound smaller at birth; he was such a little squirt!)  "Twin A" is often on his third outfit of the day before 9AM.
I used to judge stay-at-home moms.  I never understood how a person could sacrifice a career that they'd worked their tail off for, to stay at home.  To trade analyzing data for analyzing the color of the substances within a diaper; to trade dressing up for yoga pants and a ponytail; to trade business lunches for being on the receiving end of launched pureed peas.  I didn't get how giving up a paycheck made sense.  Now I get it.
This isn't about me.  It's not about my climb up a corporate ladder, or breaking any glass ceilings.  It's not about whether my boys are wearing Burberry onesies and riding in a $4,000 stroller.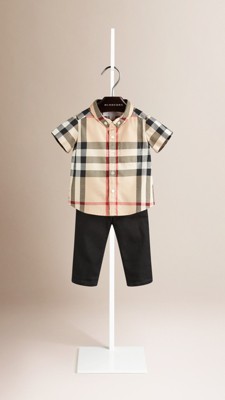 (Image from Burberry.com)
It's about them having me at home because we can have it this way, spending time and making memories and learning from one another as we navigate this road as a family.  I used to be embarrassed, when asked about my career, to admit that right now, I don't have one.  I'm still working on my education- and I'm damn proud of it.
I'll have lots of years to go back to work, to build my career as long as it works for our family.  For now, I'm trying to savor every second I can with these precious gifts, stockpiling the love and the snuggles they give so freely for a day when they'll be "too big," or "too old" to show Mom affection.  For now, my job- my career- is Mom.
And I couldn't be prouder.  My heart could not be fuller.
xoxo,
~d